Students Creating Mobile Experiences
Brian O'Keefe
Visiting Professor
Golisano College of Computing & Information Sciences
Mobile Experiences for Tourism
Graduate, campus-based course
Since Fall of 2011, Brian O'Keefe, a visiting professor for the Golisano College of Computing & Information Sciences, has been teaching Mobile Experiences for Tourism. This is a unique, multidisciplinary course experience in which students across a number of graduate-level, academic programs work collaboratively to develop mobile technologies with a specific focus on the tourism industry. In its most recent offering, students worked to develop a mobile experience, known as Brick City Tours. Not only has the course provided students with a "pseudo work place" experience in which to apply their skills, they have also contributed to cutting edge research in mobile technology infrastructures that can be used in the tourism industry.
Teaching and Learning Goals
Mobile Experiences for Tourism (MET) explores mobile product development with a focus on creating device infrastructures to enhance the "tourist's experience with special emphasis on historical locations". O'Keefe and his students recently worked on developing a customized mobile experience called Brick City Tours to augment the on-campus tours provided to prospective students and their family's through RIT's Admissions office. An important goal of this course experience is to have students collaborate and communicate within and across their project teams in order to simulate a realistic work environment.
In previous offerings of the MET course, Brian's students have also worked with Genesee Country Village & Museum as well as VistRochester.com to explore how this same use of mobile technology can be utilized to improve the touring experience of historical locations.
Teaching Strategies and Tools
Applying a Design Studio Approach
Utilizing a "design studio" approach, students are assigned to three distinct teams based on their respective areas of study: Human Factors, Interaction Design, and Development. Professor O'Keefe chose these teams to replicate the kinds of teams found in related professions. Students from four different programs were involved in helping to develop the mobile infrastructure for Brick City Tours. These graduate programs included Applied Experimental and Engineering Psychology out of Liberal Arts as well as students from three of Golisano's graduate programs – Computer Science, Human Computer Interaction, and Information Technology. The Human Factors team did field work and interviewed various stakeholders to help inform the mobile product function and design; the Interaction Design team developed comps and workflows for the user interface based on stakeholder input and communicated this to the developers; and the Developers team determined the code and built the actual infrastructure of services.
Students of the Mobile Experiences for Tourism course
Brian shares:
"The experience I wanted the students to walk away with is two-fold: what it's like to be in an HCI program. HCI as its own entity is multidisciplinary. It is cross- disciplinary; it's what makes HCI HCI! So, I wanted to really give them a good feel for what that is and in that kind of research area. The other side is more of a design studio setting. Eventually once they get into the work place or if they had been in the work place before, they will run into scenarios where they are working with lots of different teams, whether it's marketing or business development or a managerial team looking to make sure they get the product out the door on time. In those scenarios many different requirements are given to different people at different times and in different scenarios. And, the students really need to adapt very quickly to all those changing elements in a design studio setting."
Brick City Tours
The goal for the finished mobile infrastructure, Brick City Tours, was to provide prospective students and their families, who tour the RIT campus, an enriched and personalized experience before, during, and after their in-person visit. This mobile product acts almost like a virtual 'note taker'. As the visitors explore the campus, supplemental, electronic materials and related content are generated and saved based on the campus locations they explore on foot. Through the mobile device's GPS capability and a GPS fencing infrastructure the team has integrated into the product, these prospective students and their families can focus on the campus tour, get to know their tour guide, and ask questions all the while customized information is being automatically logged for their reference later on.
The Brick City Tours user interface
Experiences and Results
Overall, the experiences that students have had in Mobile Experiences for Tourism have been empowering. Brianna Slutsky, Dmitry Bespalov, and Anushri Thanedar share what the course was like for them and how it has enhanced their own skill set and prepared them for working in their respective disciplines.
Brianna Slutsky is a student in the Masters in Experimental Psychology program, CoLA: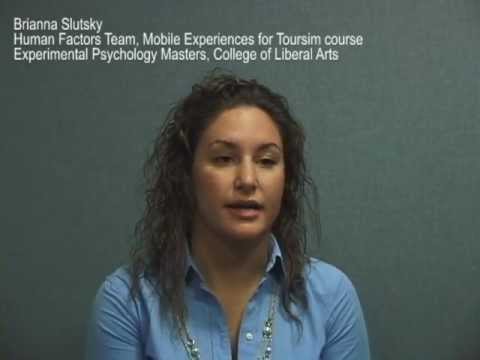 Dmitriy Bespalov


Dmitriy is a student in the Masters in Computer Science program, GCCIS:

"I have experience in developing and in iPhone developing, especially. So, this class was interesting for me to actually apply my knowledge and do something innovative and do something that has never been done before …… The most important cross-disciplinary experience was exposure to different phases of the application development, of the project; starting from the initial idea, starting from brainstorming and going through the iterative process of design and implementation. When I, in the first few weeks, was able to come up with a raw prototype, after that the team was building up on it, we were discussing the design, we came up with new ideas and they were able to think more for the future stages. All of us produced some kind of integrative value and that worked really well. "
Anushri Thanedar

Anushri is a student in the Masters in Human Comptuer Interaction program, GCCIS:

"The single most important thing that I really liked about the Mobile Tourism course is that it really helped me push my limits. Previously, I only used to work on wire framing and prototyping, which is just like making plain and simple, black and white user interface designs. But with Brian he was never actually satisfied with just one thing. He always asked us to go ahead, push our limits, so, I actually went ahead and did a lot of work on Photoshop, I did a lot of work in Visual Design, which I haven't really done before. I didn't even know that I had a visual designer in me. And, I learned a lot from that. Another thing that I really liked about the course was that it was multidisciplinary. We worked a lot with the Human Factors team, we worked a lot with the Development team, so, I came to know about nuances in both of those fields, which I didn't really know about before."